About Us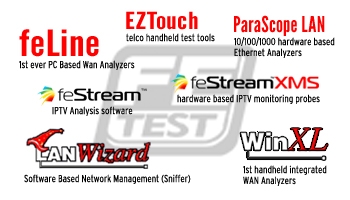 FETest, LLC (formerly known as Frederick Engineering, Inc.) is devoted to delivering installation, troubleshooting and content delivery test, monitoring and access products for the rapidly growing digital broadband era. Customers all over the world have greater choices how they obtain their content. The growth of IPTV, VOD and OTT present both new challenges and opportunities as Telco's and service providers are constantly being challenged to do more to meet customer expectations or QoE.
Founded in 1983, FETEST has provided product solutions to customers worldwide. FETEST hasn't wavered from our founding corporate philosophy of providing the "best value" which was established close to 30 years ago. That same valued approach is reflected today in all our products and customer support. We challenge you to find greater value.
With international distributors representing 75 countries globally, and several resellers covering the entire United States and Canada, FE provides ideal solutions with our world-renowned product lines.
FEtest's introduction of our new

IPTV Expert Analysis and Monitoring solutions have opened new doors and created new opportunities including OEM, technology licensing and product contract engineering. The

technology provides the only PC based real time streaming video capture and analysis. Pretty cool! Our new feStreamXMP probe solution will provide telco technicians with the most powerful solution to solving those nasty IPTV intermittent issues.
We'll be introducing our lowcost EZTouch Bonded DSL solution by the Fall of 2012. We'll expand this product by adding our IPTV test applications. We guarantee that this combination test set will offer the best feature and value in the market.
Our core management team has been in the test and monitoring business for over 25 years. Our skilled technology team is well versed in test, monitoring and service verification.
The corporate headquarters is located right next the BWI airport in Baltimore, Maryland with an additional technology research and development office in Poland.
Make sure to download your free feStream demo software. Try it, you'll like it.
As always, we thank you for your support.